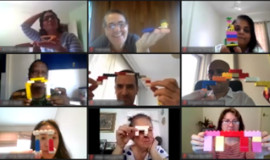 The LEGO ® SERIOUS PLAY ® method is a facilitation process that awakens the imagination, engages all participants 100%, makes it possible to communicate in 3D and to face complex and abstract challenges, using LEGO ® bricks to build metaphors and tell a story (story telling).
This method was developed to mobilize and engage participants, decompartmentalize and build collective intelligence, improve innovation and organizational performance, release creative thinking and also transform ideas into individual and collective commitments.
The Team Building Agency offers workshops based on your needs and that are tailored for your team! Do not hesitate to share with us what you would like to accomplish as a team.
CONTACT US NOW TO OPTIMIZE YOUR TEAM'S POTENTIAL!