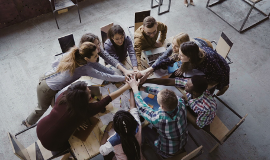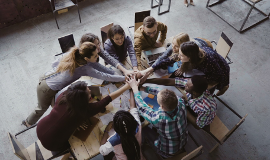 The work environment is a lot different than it used to be.
Some companies weathered the pandemic storm better than others, adapting quickly to meet the needs of their employees. Other organizations have lost several members of their teams. Perhaps they have not been able to create a foundation of trust, openness and resilience in their teams?
The needs and expectations of employees have changed fundamentally in the past year.
In fact, a recent study done by Microsoft in March 2021 indicated that more than 40% of the global workforce would be ready to quit their jobs this year. Several factors influence this decision, including new work opportunities (provincial, national and international, which are no longer restricted by location due to virtual work), flexibility and work / family balance.
There are many benefits to having a culture centered on teams and individuals, especially during times of change. What can be done to help your team members maintain a balance (between work and personal life) and have ideal stress levels?
Although nearly 50% of people work from home, this has not helped achieve more work-life balance. People are even more stressed than they were before.
The better the work-life balance is experienced for an employee, the less stress is felt and vice versa.
How do you make sure that team members feel this balance? How do you create a team-centered culture?
Review company policies and their impact on employee stress levels:

Actively prioritize, discuss and respond to employee mental health needs. This will allow you to be in a better position to retain and attract the best talent.
Understand that allowing flexibility does not compromise productivity, on the contrary.
Allow and ensure that team members stay connected and strengthen their bonds, no matter where they are physically.
Ensure leaders listen to their team members. Even though listening sessions need to be scheduled and take a long time, it sends a clear signal to employees that they are valued.
Invest in team members to ensure that their talents and knowledge remain up to date to remain competitive in their area of ​​expertise.
Focus your efforts on your team members to reduce their stress, to keep and strengthen your team members!