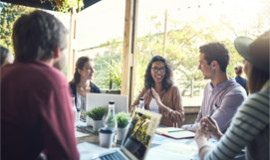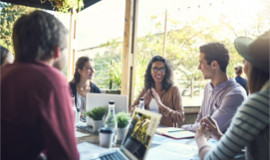 A lot of time and money is invested every year in the preparation of a corporate team retreat. This is the perfect time for team members to get to know one another better, find solutions to problems, innovate and work effectively as a team.
In order to obtain results it is important to clearly define the objectives. It's good to spend time together, but if the goals are not clearly defined, it may create a sense of time wasted from participants who invest 2-3 days of their time and often over the weekend. . It is important to remember that it is better to have a few items on the agenda and to deal with them in depth than to have several items on the agenda and not have enough time to address them properly.
Building relationships among team members is very important, but this too, must be included in the objectives to allow for the appropriate time and results. Nothing should be left to chance.
It's important to include a team development activity on your corporate retreat agenda. It must also be well selected and organized and in connection with your objectives. Two of my favorite team development activities to use during corporate retreats are: The colours of our personalities and Trust is the Foundation of a Cohesive Team.  These two team development workshops, help team members get to know one another and work more effectively together.
A cohesive team understands and works effectively together, and that is your competitive advantage and your best return on investment.
Do not hesitate to request a preparation from each of the members of the team before the corporate retreat. The commitment of the participants will be greater during the retreat if you do so. The more each participant invests, the greater the results will be. It is important to maximize each individual's contribution to the team. If you find it difficult to involve all team members equally, a facilitator can help you.
As a facilitator, I actively make sure that everyone contributes. One of the best ways to engage everyone is to use small groups of 4 or 5 people to discuss certain issues. Small groups also allow participants to address more meaningful issues and develop specific action plans to implement the changes. All partners can step in at one point, but the best work is done in small groups.
You can also opt to include the Lego Serious Play Methodology to your corporate retreat. Lego Serious Play, gives a voice to each participant, who contribute solutions and innovate together by building their ideas. This methodology allows 100% of participants to be 100% engaged, regardless of their role or whether they are introverted or extroverted. The Lego Serious Play Methodology can also help you develop an action plan to move from your current situation to your desired situation. Who would have thought that it was possible to establish an action plan, with 100% commitment from the team, while having as much fun!
Do not hesitate to communicate your action plan with all employees once the corporate retreat is over. This will help you keep the momentum of your actions, enable transparency and good communication, and help create a foundation for trust and commitment.
Wishing you a productive corporate retreat,

Geneviève Lemay
Facilitator and Team Development Specialist