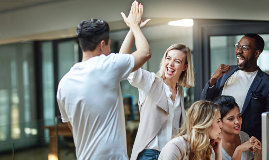 The Managing for Employee Engagement Workshop, helps managers succeed by providing the people they manage with what they need to feel fulfilled and engaged in their jobs.
Every day, people from custodians and clerks to engineers and executives suffer at jobs that leave them feeling unhappy and frustrated. A miserable job is pretty much the same for everyone, regardless of the nature of the work itself. It's one that people dread going to because they know they will come home with less energy, confidence, and self-esteem than when they left.
Job misery can be devastating to employees and their families and friends, and it has a very real effect on an organization's bottom line: loss of customers, reduced productivity, and increased costs of recruiting, retention, legal fees, and workers' compensation.
What is this program intended to achieve?
The one person in the organization who has the greatest impact on whether someone enjoys coming to work or is miserable in his/her job is that person's manager. That is what Managing for Employee Engagement is all about: helping managers engage, motivate, and retain their direct reports by eliminating the three primary causes of job misery.
What will workshop participants learn?
In this workshop, managers explore the effects of job misery on their direct reports, themselves and their organization. They will also have an opportunity to assess their strengths and weak areas, and identify ways in which they can use the model to improve.
The Team Building Agency offers workshops based on your needs and that are tailored for your team! Do not hesitate to share with us what you would like to accomplish as a team.
CONTACT US NOW TO OPTIMIZE YOUR TEAM'S POTENTIAL!