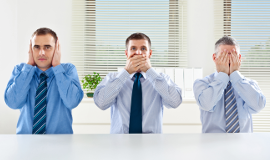 During the Effective Communication Team Building Activity, the team will be presented with a series of communication exercises and challenges that will provide a concrete, practical demonstration of the importance of effective communication for teamwork.
In the architect's challenge, the architect has to describe the steps required for building a structure to team members. Clear and precise communication among team members will be essential for achieving the desired result.
In another activity, the participants will receive the same instructions, but each team member will get different results. As with the talents and personality of each team member, has a different communication style and interprets information in a different way. This activity dramatically demonstrates the importance of adapting our communication to others to obtain better results.

An other activity will also allow the participants to practice and demonstrate the importance of good listening in communication.

It's trough fun and interactive games, as well as by reflecting on their experiences, that the participants will be able to translate their learning into their work environment, as well as into their daily interactions.

An activity that can be combined to Effective Communication Training or the Personality and Communication Styles Training.
The Team Building Agency offers activities based on your needs and that are tailored for your team! Do not hesitate to share with us what you would like to accomplish as a team.


CONTACT US NOW TO OPTIMIZE YOUR TEAM'S POTENTIAL!