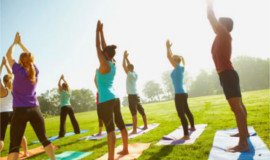 Have you thought about offering a Yoga Workshop Team Building activity for your team in the work place?  Whether you are looking for Yoga classes to reduce your work teams' stress level, an activity on a special summer day or a health and well-being activity, our business Yoga workshops help with stress management, and allow you to feel calm and serene.
These Yoga workshops improve the team members' health, balance and performance.
The Yoga Workshop Team Building Activity is an Ideal Team Building for an Employee Day or a Health and Wellness Program
Health and wellness at work refers to all programs and measures put in place to ensure a work environment that is safe for the physical, psychological and psycho-social health of employees and to promote their development as individuals.
The Advantages of the Yoga Workshop Team Building Activity for Your Team 
Create a positive energy within the team and company
Improve motivation
Optimize teamwork
Reduce stress
Get to know one another
Improve communication
Increase employee dedication to the companies' growth and success
Identify the strengths of each member in the team
Creates a sense of belonging
Mobilize and tighten team spirit
Encourage collaboration in the team
Increase trust among the team members
Sharing of a common vision 
Stimulate creativity
And lots of fun!
The Team Building Agency offers activities based on your needs and that are tailored for your team! Do not hesitate to share with us what you would like to accomplish as a team.
CONTACT US NOW TO OPTIMIZE YOUR TEAM'S POTENTIAL!