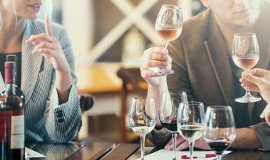 With the Wine Masters Team Building activity, become a wine master and test your knowledge, your smell and your taste during this friendly competition. Explore your senses while having fun. Collaboration and resourcefulness are maximized in this team challenge. This activity is great to allow team members to get to know each other better, in a fun and different environment.

The Wine Masters Team Building activity is a Culinary Team Building
The culinary team building is a must for a gathering experience.
Use this type of activity to strengthen the ties between your team members but also to thank your employees, customers or partners. A friendly and festive experience!

The advantages of the Wine Masters Team Building for your team
Mobilize and tighten team spirit
Improve communication within the team
Collaboration in the team
Increase trust amongst the team members
Encourage team strategy
Team productivity and efficiency
Sharing of a common vision and eliminate silos
Stimulate creativity
Improve leadership efficiency
Demonstrate the importance of the contribution of each team member
And lots of fun!

The Team Building Agency offers activities based on your needs and that are tailored for your team! Do not hesitate to share with us what you would like to accomplish as a team.
CONTACT US NOW TO OPTIMIZE YOUR TEAM'S POTENTIAL!