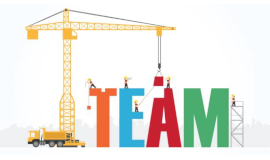 Through the "The Foundation of a Cohesive Team" workshop, participants will understand the model of a cohesive team, how the team is performing right now, and also where they need to put their energy, in order to solidify the team's foundation to have a cohesive team.
Why this workshop for your team?
To help team members work more effectively together to become a cohesive team.
A productive, high-functioning team:
Makes better, faster decisions
Taps into the skills and opinions of all members
Avoids wasting time and energy
Creates a competitive advantage
Is more fun to be on!
The Team Building Agency offers workshops based on your needs and that are tailored for your team! Do not hesitate to share with us what you would like to accomplish as a team.
CONTACT US NOW TO OPTIMIZE YOUR TEAM'S POTENTIAL!