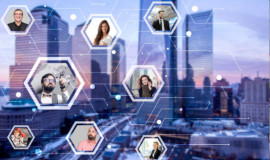 How do you strengthen communication when you are not in the same office?
This interactive workshop allows you to take a look at your communications in order to improve your efficiency and connection with others.
Our experiential approach immerses participants in the action. Enabling you to immediately understand and apply solutions and skills to communicate more effectively and achieve better results virtually.
A workshop designed according to the needs of your team, to allow you to revisit the way you express yourself and listen to obtain effective virtual communication.
The Team Building Agency offers workshops based on your needs and that are tailored for your team! Do not hesitate to share with us what you would like to accomplish as a team.
CONTACT US NOW TO OPTIMIZE YOUR TEAM'S POTENTIAL!