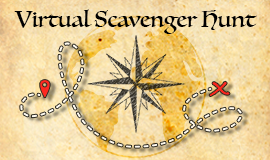 The Virtual Scavenger Hunt is a fun virtualt Team Building activity that encourages groups to recreate the scavenger hunt experience in a fully remote environment! The goal of the virtual scavenger hunt is to bring a team together around a common goal, stretch their creative and problem solving minds and have fun!
The Virtual Scavenger Hunt missions may consist of trivia questions, video challenges, picture challenges, finding surprising places in the world, solving riddles and completing various team challenges.
The Team Building Agency offers virtual activities based on your needs and that are tailored for your team! Do not hesitate to share with us what you would like to accomplish as a team.
CONTACT US NOW TO OPTIMIZE YOUR TEAM'S POTENTIAL!