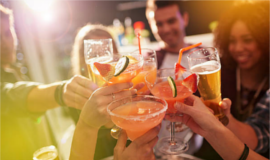 The Virtual Mixology Workshop is a fun Team Building activity combining learning, teamwork and creativity.
During the Workshop, you will learn the secrets for making a great cocktail. Alle participants will then create their own cocktail guided by the mixologist.
The workshop will end with a networking session, during which each of the participants will be able to taste their masterpiece while networking with their colleagues. One or two activities , led by a facilitator, will invite people to divide up into sub-groups to have fun and get to know each other better.
Don't hesitate to share with us the theme of your day. We will be happy to integrate it in the Mixology Workshop!
The Team Building Agency offers workshops based on your needs and that are tailored for your team! Do not hesitate to share with us what you would like to accomplish as a team.
CONTACT US NOW TO OPTIMIZE YOUR TEAM'S POTENTIAL!