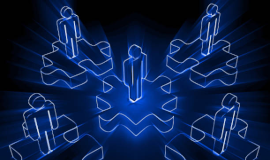 "The Virtual Team Challenges" Team Building activity consists of putting in practice the different necessary elements of effective teamwork. Team Challenges is a concept during which a series of animated challenges are presented to the team, favoring: good communication, collaboration, trust, strategy, productivity, effectiveness, sharing a common vision, elimination of the silos, creativity, leadership and the value of contribution of each member within a team. Before and after every challenge, the facilitator does a briefing and debriefing with the participants (if desired).
As they learn, the teams will be induced in stimulating and friendly competitions that will definitively, tighten the team spirit.
The Team Building Agency offers workshops based on your needs and that are tailored for your team! Do not hesitate to share with us what you would like to accomplish as a team.
CONTACT US NOW TO OPTIMIZE YOUR TEAM'S POTENTIAL!