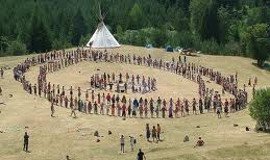 The Tribe Team Building activity is a unifying activity that demonstrate the importance of each of team members and provides a sense of belonging.

Indigenous society is based on inclusion. Everyone has their place and nobody is ever isolated in the tribe. Connection is a fundamental aspect of tribal life. This is because everyone watches over the fire together.  Humans are made for this: being together, united by the common task of protecting a village (the company), a tribe (the team) as well as feeding everyone and ensuring their well-being. We are made to work together, but also, to be supported by others.
The tribe provides a sense of belonging because of the individual's identification and commitment to the group, with its distinctive signs, customs, language, characteristics, values, rituals and traditions.
During this Team Building activity, the participants will face challenges and play games to help them discover the meaning and importance of the rituals within a tribe and how the company's values unite the team. This important experience combines fun and discovery while reinforcing the team's bonds.
The Tribe Team Building Activity is a Thematic Team Building
Themes allow participants to be transported in a different context and to experience the desired emotions and experiences. The theme also facilitates the communication of the messages to be shared and creates an experience that the participants will remember for a long time.
The advantages of  the Tribe Team Building Activity for your team 
Creates a sense of belonging
Mobilize and tighten team spirit
Get to know each other
Improve communication within the team
Collaboration in the team
Increase trust amongst the team members
Encourage team strategy
Team productivity and efficiency
Sharing of a common vision and eliminate silos
Stimulate creativity
Improve leadership efficiency
Demonstrate the importance of the contribution of each team member
And lots of fun!
The Team Building Agency offers activities based on your needs and that are tailored for your team! Do not hesitate to share with us what you would like to accomplish as a team.
CONTACT US NOW TO OPTIMIZE YOUR TEAM'S POTENTIAL!