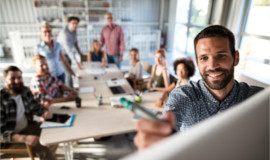 With transformational strategy, maximize innovation, creativity and flexibility of your organization's strategies by weaving stakeholder perspectives into your long range plans. Diverse input will build commitment and action into the transformation.
Transformational Strategy Facilitation enhances a group's potential to think and act strategically and empower them to act immediately.
Benefits of transformational strategy
Participatory strategic planning increases innovation and commitment so that major transformations and smaller projects can be implemented quickly.
Facilitates innovative strategic thinking
Engage multiple perspectives in productive dialogue
Enable groups to generate creative, well conceived plans
Focuses energy and commitment toward positive results
Practical action plans with schedules and assignments
Expanded responsibility for action, follow through, results and learning
Accomplishments that exceed expectations
Build solid teams that work together
Improve communication among members of the group
Build solid, lasting consensus
Develop common purpose and motivation
Faster more flexible implementation
Quicker modification when situations change
Groups prepared for immediate implementation
"If you are planning for one year, grow rice. If you are planning for 20 years grow trees. If you are planning for centuries, grow people."
Chinese Proverb
The Team Building Agency offers workshops based on your needs and that are tailored for your team! Do not hesitate to share with us what you would like to accomplish as a team.
CONTACT US NOW TO OPTIMIZE YOUR TEAM'S POTENTIAL!