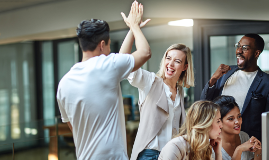 Make your team stronger and more united with this fun Team Building Activity!
We all like to know that we are appreciated at work. This is why this workshop provides you with an experience of positive feedback and collective reflection, to identify the qualities and strengths of team members..
Participants will be invited to identify each other's qualities and strengths, using specially designed cards to create a "totem" of each of the individuals within the team.
The process used will help participants give effective feedback and allow them to receive feedback from their colleagues. This is how everyone will feel valued and appreciated within their work team.
Why does peer-to-peer recognition matter?
It enhances company culture, by helping employees feel appreciated, strengthening connections and increasing a sense of belonging.
It fosters diversity and inclusion
It strengthens team morale
It improves motivation and performance
It increases employee engagement
It empowers managers and leaders to build stronger and high-quality teams
It decreases employee turnover
The Peer-to-Peer Recognition Game is the perfect activity to bring out the best in everyone within a small team!
The Team Building Agency offers workshops based on your needs and that are tailored for your team! Do not hesitate to share with us what you would like to accomplish as a team.
CONTACT US NOW TO OPTIMIZE YOUR TEAM'S POTENTIAL!