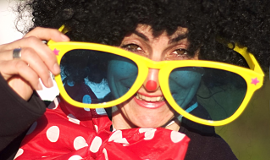 Fun and laughter are at the forefront of the The Circus Team Building activity .
With each passing challenge the participants will become circus characters, as they accumulate sometimes a wig, a pair of straps, a nose or other piece of suit. No points will be attributed, only items to add to their colourful circus.
All while trying to win the competitions; the participants will give free expression to their true personality under their costumes. An activity filled with surprises and laughter. Which circus or clown will be the most audacious and most original one?
The perfect activity to tighten the team spirit!
The Circus Team Building Activity is a Thematic Team Building

Themes allow participants to be transported in a different context and to experience the desired emotions and experiences. The theme also facilitates the communication of the messages to be shared and creates an experience that the participants will remember for a long time.



The advantages of the Circus Team Building Activity for your team 
Creates a sense of belonging
Find creative solutions
Build productive teams
Improve motivation
Optimize teamwork
Reduce stress
Get to know one another
Optimize employee recognition
Improve leadership skills
Improve communication
Increase employee dedication to the companies' growth and success
Create a positive energy within the team and company
Identify the strengths of each member in the team
Creates a sense of belonging
Mobilize and tighten team spirit
Encourage collaboration in the team
Increase trust among the team members
Encourage team strategy
Team productivity and efficiency
Sharing of a common vision 
Stimulate creativity
Demonstrate the importance of the contribution of each team member
Team cohesion and synergy
Understand the impact of our attitude within the team
And lots of fun!
The Team Building Agency offers activities based on your needs and that are tailored for your team! Do not hesitate to share with us what you would like to accomplish as a team.
CONTACT US NOW TO OPTIMIZE YOUR TEAM'S POTENTIAL!