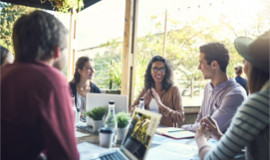 Team Retreat or Corporate Retreat
Whether your team retreat or corporate retreat is a half day, one day, two days, or a multi-day experience, our approach to your corporate retreat is to ensure it is custom designed to address the key objectives and group dynamics of your team.
Day to day, you work under pressure, and spend very little quality time with your colleagues. Whether your objective is to get to know each other better, to build a performing team, to work together better, to be more innovative, or to work on your strategy, a team retreat or corporate retreat will allow time for the process.
The Team Building Agency facilitates results-based, highly interactive corporate retreats using a wide range of team development programs and facilitation methodologies to meet your corporate retreat goals. A facilitator will help ensure that time is well spent and all individuals are able to participate fully.
The Team Building Agency supports and facilitates your team retreats or corporate retreats in various ways:
Provide Team Building events designed to complement your retreat theme.
Stimulate creative thinking and guide strategy development
Facilitate creative problem solving
Provide corporate training workshops focused on professional development topics including leadership, trust, teamwork, personality type assessment, team cohesion assessment and activities
Facilitate all or part of your multi-day company retreat blending strategy, important conversations, corporate training workshops and teambuilding activities
The Team Building Agency offers workshops based on your needs and that are tailored for your team! Do not hesitate to share with us what you would like to accomplish as a team.
CONTACT US NOW TO OPTIMIZE YOUR TEAM'S POTENTIAL!