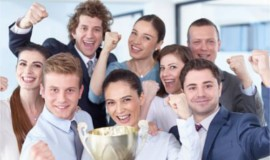 The Team Challenges Team Building activity consists of putting in practice the different necessary elements of effective teamwork. Team Challenges is a concept during which a series of animated challenges are presented to the team, favouring: good communication, collaboration, trust, strategy, productivity, effectiveness, sharing a common vision, elimination of the silos, creativity, leadership and the value of contribution of each member within a team. Before and after every challenge, the facilitator does a briefing and debriefing with the participants (if desired).
As they learn, the teams will be induced in stimulating and friendly competitions that will definitively, tighten the team spirit. This concept can be done outdoors or indoors (The activities vary according to the venue, objectives, group, allocated time and space, as well as the weather).
The Team Challenges Team Building activity is a Team Building from the games and challenges category
To convey a message, there is nothing like doing it in the form of a corporate game: collective challenges, friendly competitions ...
Each of the games and challenges are specially selected according to the goals you have for your team.
The advantages of Team Challenges activity for your team
Find creative solutions
Optimize effective leadership
Creates a sense of belonging
Mobilize and tighten team spirit
Get to know each other
Improve communication within the team
Encourage collaboration in the team
Increase trust among the team members
Encourage team strategy
Team productivity and efficiency
Sharing of a common vision and eliminate silos
Stimulate creativity
Demonstrate the importance of the contribution of each team member
And lots of fun!
The Team Building Agency offers activities based on your needs and that are tailored for your team! Do not hesitate to share with us what you would like to accomplish as a team.
CONTACT US NOW TO OPTIMIZE YOUR TEAM'S POTENTIAL!