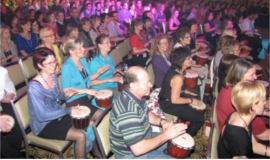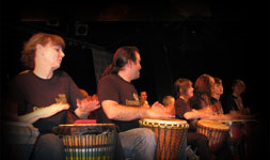 The Tam Tam Team Building Activity is an interactive team building activity that promotes work team development. Using a "Djembe," a percussion instrument popularly called a " Tam Tam " the participants create a team harmony. 
The goal is to develop collective listening skills, improve group organization, strengthen work teams and achieve results.
Our corporate development allows us to create unique events that are tailor-made to your business. Using powerful, customized, optimized and effective organizational development approaches, the Tam Tam Team Building activity targets every department in your company that has five members or more (management, sales, marketing, accounting, customer service, human resources, etc.).
Our team of musicians, including our professional percussionists, will show your team the incredible power of a group that works together.
In addition, the Tam Tam Team Building activity may be added as an energizing and participatory break in your training programs, meetings and conferences to entertain, amuse and, especially, maximize your work teams and allow them to continue the training sessions.



The Tam Tam Team Building activity is a musical Team Building
Music is the universal language to motivate and mobilize your teams. Original and inclusive, this type of Team Building gives professional teams the opportunity to develop their cohesion around the company's values.
The Tam Tam Team Building Activity targets work groups that want to improve their working methods while having fun. Themes include:
Teamwork;
The motivation and organization of human capital;
Effective communication and active listening;
Customer service;
Sales;
Leadership;
Creativity and innovation while working;
Achieving objectives and results;
Managing change.
Several other themes include the improvement of professional networks, conflict management, integrating different generations and cultural diversity, developing business strategies, etc.
The Team Building Agency offers activities based on your needs and that are tailored for your team! Do not hesitate to share with us what you would like to accomplish as a team.
CONTACT US NOW TO OPTIMIZE YOUR TEAM'S POTENTIAL!