For a Leadership Forum, Management Offsite, Conference, Congress, and any other event.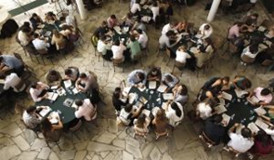 WORLD CAFE 
During your leadership forum or management offsite, would you like to align all of your participants' thinking with organizational objectives, allow them to learn from one another, and come up with actions for change? This simple, effective and flexible methodology, originated from the united states in 1995.  It allows for innovative collective thinking through the contribution of all participants. We can help you select the perfect theme for your event and provide a self-facilitated and is highly effective process for groups of up to 500 participants.
For your event we can also provide Ice-Breaker Activities as well as Networking activities.
The Team Building Agency offers workshops based on your needs and that are tailored for your team! Do not hesitate to share with us what you would like to accomplish as a team.
CONTACT US NOW TO OPTIMIZE YOUR TEAM'S POTENTIAL!