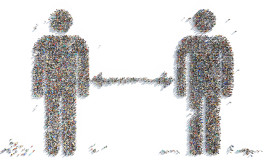 A Team Building reinvented for a new reality!

The pandemic has required us to reinvent the way that we do things and adapt to this new reality. This is exactly what the  Physical Distancing Team Building activity offers.

A Team Building that respects all distancing measures, which is both fun and safe. We offer an activity that includes a series of games and team challenges that can be done with a safe separation between participants. The equipment is also disinfected and each participant gets their own equipment.

The activity includes communication, leadership and collaboration challenges. The challenges are selected according to the number of participants, the space and the time available.

A perfect activity to have fun together and be safe together. 
The Team Building Agency offers workshops based on your needs and that are tailored for your team! Do not hesitate to share with us what you would like to accomplish as a team.
CONTACT US NOW TO OPTIMIZE YOUR TEAM'S POTENTIAL!