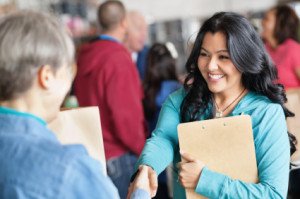 Enhance networking during your event! The Team Building Agency offers a multitude of networking activities to facilitate new relationships or tighten existing relationships. The Team Building Agency understands the importance of interpersonal connections within professional development. The networking activities proposed by the Team Building Agency are aimed at facilitating sharing of ideas and helping participants be proactive in the business development process. Even the most reserved types, will approach others and interact with ease thanks to the networking activities proposed by the Team Building Agency.
For many people the simple word networking brings shivers down their spine. They would rather hide behind their cell phone instead of finding the courage to introduce themselves in a crowd. It's through the use of games, themes and activities to get to know each other, that the Team Building Agency facilitates conversations and meetings between your participants. The Team Building Agency mobilizes your group in such a way that all participants will want to contribute and participate during the event. Certain methods that are used are very dynamic while others are very discreet. Here is one example of a networking activity:
The Mediteranean Cruize
Contact the Team Building Agency now to find the perfect solution for the success of your event!