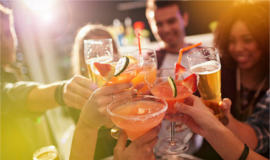 The Mixology Workshop Team Building activity is a fun activity combining learning, teamwork and creativity. During this activity, you will learn the basic rules for making a great cocktail. You will team up and create different cocktails, led by a Mixologist.
We begin with a brief introduction and cocktail making techniques. The group is then divided into teams, each with their own bar unit. With the help of one of our professionals, each team is required to conjure up a cocktail and develop their own drink creation. The teams will also have to compete in different Mixology challenges.
The teams then take turns, demonstrating their cocktail for the judges. An activity filled with surprises and laughter! The winners will not only have created the best cocktail, with the items given to them, but will also have shown the most creativity in naming their cocktail and in its presentation. 
Showcase your creativity and bring out the spirit in you and your team!
Don't hesitate to share with us the theme of your day. We will be happy to integrate it in the Mixology Workshop!

The Mixology Workshop Team Building Activity is a Culinary Team Building
The culinary team building is a must for a gathering experience.
Use this type of activity to strengthen the ties between your team members but also to thank your employees, customers or partners. A friendly and festive experience!

The advantages of the Mixology Workshop Team Building for your team

Mobilize and tighten team spirit
Improve communication within the team
Collaboration in the team
Increase trust among the team members
Stimulate creativity
Improve leadership efficiency
Demonstrate the importance of the contribution of each team member
And lots of fun!
The Team Building Agency offers activities based on your needs and that are tailored for your team!  Do not hesitate to share with us what you would like to accomplish as a team.
CONTACT US NOW TO OPTIMIZE YOUR TEAM'S POTENTIAL!