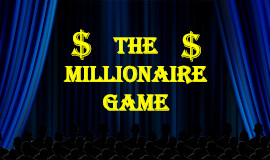 The Millionaire game is a virtual Team Building based on the television game show "Who Wants to Be a Millionaire".  This is the perfect game for pure fun or as a philanthropic Team Building to rallye your team around a cause and raise funds for a non-profit organization.
The virtual concept features a quiz competition in which contestants attempt to get to the top level of one million by answering a series of multiple-choice questions of increasing difficulty. Unlike the television show, the earnings that the participants may win during this game are of symbolic value and could be linked to a real prize (determined by the client).
If at any time the contestant gives a wrong answer, the game is over. However, the contestant may choose to stop playing after being presented with a question, allowing them to keep the earnings or level they have gotten to that point.
Test your general knowledge while having fun with the members of your team!
The Team Building Agency offers workshops based on your needs and that are tailored for your team! Do not hesitate to share with us what you would like to accomplish as a team.
CONTACT US NOW TO OPTIMIZE YOUR TEAM'S POTENTIAL!