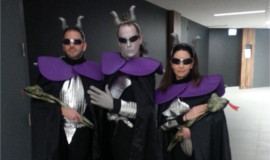 A space themed immersive activity.
During this dynamic activity, a series of space themed challenges are presented to the participants. A combination of unique collaboration challenges, communication challenges and an element of stimulating competition. Each sub-team represents the habitants of a planet in the galaxy, who will have to accomplish different missions.
Much more than teamwork, this is an opportunity to have fun and be creative !
The advantages of Intergalactic Adventure Team Building activity for your team
Find creative solutions
Optimize effective leadership
Creates a sense of belonging
Mobilize and tighten team spirit
Get to know each other
Improve communication within the team
Encourage collaboration in the team
Increase trust among the team members
Encourage team strategy
Team productivity and efficiency
Sharing of a common vision and eliminate silos
Stimulate creativity
Demonstrate the importance of the contribution of each team member
And lots of fun!
The Team Building Agency offers activities based on your needs and that are tailored for your team! Do not hesitate to share with us what you would like to accomplish as a team.
CONTACT US NOW TO OPTIMIZE YOUR TEAM'S POTENTIAL!