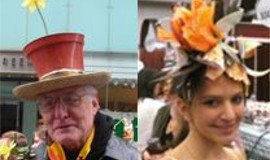 During the Get Your Creative Hat On Team Building Activity, participants must create a hat that reflects their personality, according to the predetermined criteria and theme. The activity will end with a humorous and colourful parade where each participant will present their work.
A fun and effective activity that shows off the participants' creativity and helps them to get to know each other, creating lasting visual memories of everyone's newly discovered characteristics
The Get Your Creative Hat On Team Building activity is a Creative Team Building
There are several benefits to integrating creativity in the workplace.Creativity and innovation are key factors in the effectiveness and competitiveness of organizations. Creativity is like a muscle, the more it is used and the easier it becomes to use that potential daily.

The advantages of Get Your Creative Hat On Team Building Activity for your team 
Get to know one another
Find creative solutions
Improve motivation
Optimize teamwork
Reduce stress
Appreciate the differences between the members of a team
Improve communication
Increase employee dedication to the companies' growth and success
Create a positive energy within the team and company
Identify the strengths of each member in the team
Creates a sense of belonging
Mobilize and tighten team spirit
Encourage collaboration in the team
Increase trust amongst the team members
Stimulate creativity
Demonstrate the importance of the contribution of each team member
And lots of fun!
The Team Building Agency offers activities based on your needs and that are tailored for your team! Do not hesitate to share with us what you would like to accomplish as a team.
CONTACT US NOW TO OPTIMIZE YOUR TEAM'S POTENTIAL!