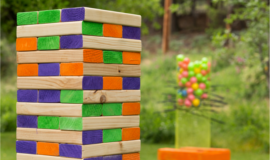 The Game Stations Team Building activity contains all of the ingredients for team members to get to know one another and develop good relationships and team cohesion. The game stations integrate well with all your events and allow participants to gather around their favourite games (Frisbee challenge, labyrinth, lawn darts, trampoline toss, juggling rings, giant domino…).
Games can be provided with or without animation.
The advantages of the Game Stations Team Building Activity for your team
Improve motivation
Optimize teamwork
Get to know one another
Improve communication
Increase employee engagement
Create a positive energy within the team and company
Identify the strengths of each member in the team
Creates a sense of belonging
Mobilize and tighten team spirit
Encourage collaboration in the team
Increase trust amongst the team members
Stimulate creativity
Team cohesion and synergy
And lots of fun!
The Team Building Agency offers activities based on your needs and that are tailored for your team! Do not hesitate to share with us what you would like to accomplish as a team.
CONTACT US NOW TO OPTIMIZE YOUR TEAM'S POTENTIAL!