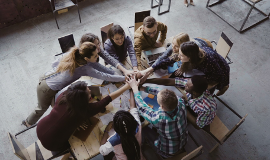 Empathy is an essential skill for all collaboration, and is particularly important when that collaboration takes place online.
This workshop is an opportunity to practice tangible skills for improving agility, resilience, communication, and collaboration, building understanding among your remote team members.
During a very fun and engaging game, participants will have to guide those who will have the task of building a specific structure, with the information that each will have. The ability to clearly understand each other is what allows us to communicate, collaborate, and solve problems in creative ways.
Lively post-activity discussions will lead you to practical ideas on how you can increase the level of understanding, creativity and cooperation within your team.
The workshop will allow your team members to:
Connect with remote team members and draw strength from the ideas and laughter you will share together in this unique online experience.
Practice and refine practical techniques for making your team's online interactions more nuanced and empathic.
Understand and leverage the diverse approaches to online work taken by each member of your team.
Identify opportunities for creative problem solving within the constraints provided by online interactions.
Understand the power of giving and receiving feedback in collaboration
Adapt your communication to the styles and preferences of your employees
The Team Building Agency offers workshops based on your needs and that are tailored for your team! Do not hesitate to share with us what you would like to accomplish as a team.
CONTACT US NOW TO OPTIMIZE YOUR TEAM'S POTENTIAL!