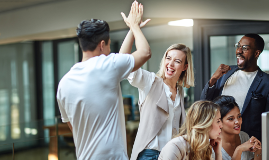 Participants will learn the essential elements to cultivate appreciation and recognition. They will use the power of recognition as part of a team activity.
The team members will take the time to live a touching experience, which they will easily remember and be able to reproduce in the workplace. In addition, they will identify original and concrete ways to recognize their peers and create a culture of recognition in their work environment.
The Team Building Agency offers activities based on your needs and that are tailored for your team! Do not hesitate to share with us what you would like to accomplish as a team.
CONTACT US NOW TO OPTIMIZE YOUR TEAM'S POTENTIAL!