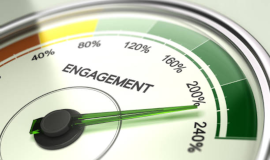 Engaged employees translates into loyalty to the company, feeling of belonging to the team, performance, involvement, motivation, taking initiatives, the ability to go beyond one's limits and put in more effort ...
Because employees are and make the company, a solid, dynamic corporate/team culture is essential in this sense: Peter Drucker - entrepreneur and academic - did say that "corporate culture eats strategy for breakfast."
The Cultivate engagement workshop comes in two options:
1-For collaborators: In order to allow participants to reflect on their own level of engagement and commitment, to have meaningful discussions and to obtain concrete tools to increase their own engagement and commitment to the team and organization.
2-For managers: In order to give them concrete tools to enable them to manage the members of their team in order to increase the level of engagement and commitment of their employees.
The Team Building Agency offers workshops based on your needs and that are tailored for your team! Do not hesitate to share with us what you would like to accomplish as a team.
CONTACT US NOW TO OPTIMIZE YOUR TEAM'S POTENTIAL!