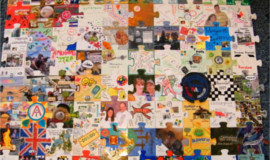 The Collective Puzzle consists of large universal blank puzzle pieces that fit together in any order. Rather than focusing on "finding pieces", the Collective Puzzle allows you to put your attention on the overall concept of the puzzle and the importance of everyone's contribution!
Each person decorates a puzzle piece in his/her own style, usually, but not always using a common theme. The participants can represent a learning, a strength, a talent, a personal mission, their role, or a contribution that they bring to the team. Every member of the team is an important piece of the global puzzle!
The collective Puzzle can also be used in Conflict resolution! In a conflict situation, the puzzle pieces can be used effectively as a communication tool. Expression can be enhanced when a person uses a puzzle piece to represent their feelings and actions. Participants name their part in a conflict and the piece they might take on to change it.
The Collective Puzzle can also be used to work with groups within groups to eliminate silos! Several groups or departments work together on a larger project. They assemble the puzzle in groups but then realize that all the groups must come together to create the collective result.
Contact us now to see how we can best use the Collective Puzzle to reach your objectives!
The C
ollective Puzzle Team Building Activity 

is a Construction Team Building challenge

The contribution of each member of the team is solicited to complete a team building. While working as a team, collaborating and communicating effectively, members build a structure that varies according to the concept.
The Advantages of the Collective Puzzle Team Building Activity For Your Team 
Find creative solutions
Improve motivation
Optimize teamwork
Reduce stress
Appreciate the differences between the members of a team
Get to know one another
Optimize employee recognition
Improve leadership skills
Improve communication
Increase employee dedication to the companies' growth and success
Create a positive energy within the team and company
Creates a sense of belonging
Mobilize and tighten team spirit
Encourage collaboration in the team
Increase trust among the team members
Encourage team strategy
Team productivity and efficiency
Sharing of a common vision and eliminate silos
Stimulate creativity
Demonstrate the importance of the contribution of each team member
And lots of fun!
The Team Building Agency offers activities based on your needs and that are tailored for your team! Do not hesitate to share with us what you would like to accomplish as a team.
CONTACT US NOW TO OPTIMIZE YOUR TEAM'S POTENTIAL!