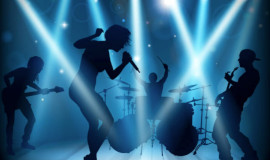 WE ARE ALL ROCKSTARS AND TOGETHER WE ROCK!!!
The Battle of the Bands activity enables your team to step out into the spotlight and unleash their inner Rockstar.
Your group will be split into teams. Each team must create a band name, delegate different roles to the band members (singers, dancers, air guitarists, etc.), get acquainted with their song and write personalized lyrics.
To prepare for their performances the band members will have access to various costumes and colourful accessories, allowing each team to show their personality.
The Team Building Agency offers activities based on your needs and that are tailored for your team! Do not hesitate to share with us what you would like to accomplish as a team.
CONTACT US NOW TO OPTIMIZE YOUR TEAM'S POTENTIAL!