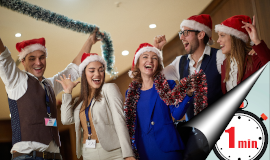 TEach of the dynamic challenges will test the nerves, patience and dexterity of the candidates who only have 60 seconds to succeed!
This Holiday Edition of the 60 Seconds to Win concept, combines a series of funny, spectacular and Christmas themed games, based on the popular TV show of the same name. Know how to use the talents of the different members of your team to complete each of the challenges. You will surely discover several hidden talents within your team!
So many funny and wacky challenges but which take on a whole new dimension with the stress of counting down the 60 seconds!
Several themes and discoveries are available to you
to create your desired experience!
The Team Building Agency offers activities based on your needs and that are tailored for your team! Do not hesitate to share with us what you would like to accomplish as a team.
CONTACT US NOW TO OPTIMIZE YOUR TEAM'S POTENTIAL!