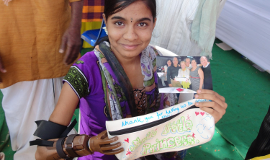 The Hand in Hand Team Building activity will allow you to reconnect using powerful tools for team cohesion and enjoy the unforgettably positive and interpersonal experience. 
Individuals who actively invest in their relationships with others become the heart and soul of a successful company and a driving force for their team. Therefore, we offer a truly unique, original and productive experience: working HAND IN HAND. 
This captivating, feel-good activity will help you reconnect using the most powerful tools for work team cohesion and membership: ASSISTANCE, CONTRIBUTION-DIRECTION, GRATITUDE-RECOGNITION, CREATIVITY and the PLEASURE of being together. Through powerful exercises and a debriefing, you will discover the richness, flavours and secrets for using these tools productively within your team, and in your personal and professional life.
This activity teaches participants that their actions and attitudes directly affect those around them and how the company operates. It will also have them work toward a greater humanitarian project: the construction of a hand (a secret that is not revealed at the beginning of the activity).
The Hand in Hand Team Building Activity is a Philanthropic Team Building
Philanthropic Team Building allows to both solidify the team and improve the living conditions of those who need it most. While having fun your team can make a difference.
The advantages of the Hand in Hand Team Building activity for your team 
Creates a sense of belonging
Improve motivation
Increase employee dedication to the companies' growth and success
Create a positive energy within the team and company
Optimize teamwork
Reduce stress
Appreciate the differences between the members of a team
Get to know one another
Optimize employee recognition
Improve leadership skills
Improve communication
Identify the strengths of each member in the team
Mobilize and tighten team spirit
Encourage collaboration in the team
Increase trust amongst the team members
Encourage team strategy
Team productivity and efficiency
Stimulate creativity
Demonstrate the importance of the contribution of each team member
And lots of fun!
The Team Building Agency offers activities based on your needs and that are tailored for your team! Do not hesitate to share with us what you would like to accomplish as a team.
CONTACT US NOW TO OPTIMIZE YOUR TEAM'S POTENTIAL!