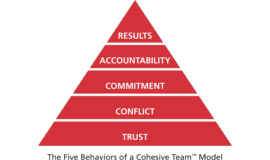 The Five Behaviors of a Cohesive Team is a learning experience that helps individuals and organizations reveal what it takes to build a truly cohesive and effective team in the most approachable, competent, and effective way possible.
The single most untapped competitive advantage is teamwork. To gain this advantage, teams must:


Trust One Another
When team members are genuinely transparent and honest with one another, they are able to build vulnerability-based trust.
Engage in Conflict Around Ideas
When there is trust, team members are able to engage in unfiltered, constructive debate of ideas.
Commit to Decisions
When team members are able to offer opinions and debate ideas, they will be more likely to commit to decisions.
Hold One Another Accountable
When everyone is committed to a clear plan of action, they will be more willing to hold one another accountable.
Focus on Achieving Collective Results
The ultimate goal of building greater trust, conflict, commitment, and accountability is one thing: the achievement of results.
The program helps teams understand how, as a team, they score on the key components of The Five Behaviors model: trust, conflict, commitment, accountability, and results. 
The Five Behaviors Model is used to help team members learn to work together more efficiently and effectively and become a more cohesive team.
A productive, high-functioning team:
Makes better, faster decisions
Taps into the skills and opinions of all members
Avoids wasting time and energy on politics, confusion,
and destructive conflict
Avoids wasting time talking about the wrong issues and revisiting
the same topics over and over again because of a lack of buy-in
Creates a competitive advantage
Is more fun to be on!

Team Assessment
Prior to The Five Behaviors of a Cohesive Team workshop, the team members take an online assessment that helps the team better understand its susceptibility to the five dysfunctions. It identifies a team's strengths and weaknesses, as well as those areas where team members have significantly differing perspectives.
The Five Behaviors program is a framework that helps team members have deeper conversations about how they work together on a day-to-day basis. It's a program that is rich enough for a team to come back to again and again.

ADDITIONAL TOOLS:
Progress Report
The Five Behaviors of a Cohesive Team Progress Report highlights areas of greatest improvement and decline, offers productive points of discussion, and provides an action plan to help teams prioritize and set specific goals. You'll be able to compare how a team's performance has changed over time and highlights areas of greatest improvement and of greatest decline.
The Progress Report also includes:
Your Team's Survey Results
Points of Discussion
Action Plan
Identify the team's priorities for improvements
Set specific goals
Appendix
The Impact of Your Style
Team Map
Conflict Team Map
Comparison Reports
The Five Behaviors of a Cohesive Team Comparison Reports are follow-up reports that can be created for any two participants to illustrate their similarities and differences. Based on data from the personality items in The Five Behaviors assessment, the reports are organized around The Five Behaviors model and illustrates two continua per behavior.
The Five Behaviors of a Cohesive Team program is designed to help teams become more efficient and effective. But, of course, teams are made up of individuals, so one-on-one relationships can have a big impact on a team as a whole.
Comparison Reports are a great tool to use to help team members learn more about one another and improve their individual relationships and, by extension, their ability to work together. Whether introducing new teammates, helping to build rapport, or working to resolve an interpersonal conflict, Comparison Reports are a great addition to a Five Behaviors program.
The Team Building Agency offers workshops based on your needs and that are tailored for your team! Do not hesitate to share with us what you would like to accomplish as a team.
CONTACT US NOW TO OPTIMIZE YOUR TEAM'S POTENTIAL!