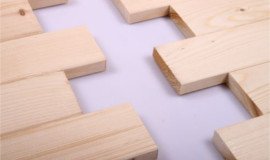 The Collective Puzzle Team Building activity is one of our favourite amonsgt the many puzzles that we present to teams who love challenges. 
Durint the Collective Puzzle Team Building activity, your team must use planks of wood to build a complex geometric structure following a well-defined pattern. This collective project has one possible result only.
The participants will quickly realize that, to succeed, the group needs good communication and listening skills. A leader is also needed to complete this project, along with a collective strategy, a clear division of roles and mutual respect.
The C
ollective Puzzle Team Building Activity 

is a Construction Team Building challenge

The contribution of each member of the team is solicited to complete a team building. While working as a team, collaborating and communicating effectively, members build a structure that varies according to the concept.
The Advantages of the Collective Puzzle Team Building Activity For Your Team 
Find creative solutions
Improve motivation
Optimize teamwork
Reduce stress
Appreciate the differences between the members of a team
Get to know one another
Optimize employee recognition
Improve leadership skills
Improve communication
Increase employee dedication to the companies' growth and success
Create a positive energy within the team and company
Creates a sense of belonging
Mobilize and tighten team spirit
Encourage collaboration in the team
Increase trust amongst the team members
Encourage team strategy
Team productivity and efficiency
Sharing of a common vision and eliminate silos
Stimulate creativity
Demonstrate the importance of the contribution of each team member
And lots of fun!
The Team Building Agency offers activities based on your needs and that are tailored for your team! Do not hesitate to share with us what you would like to accomplish as a team.
CONTACT US NOW TO OPTIMIZE YOUR TEAM'S POTENTIAL!