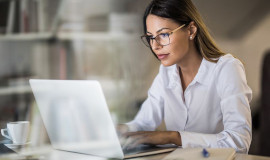 What is a Meet & Learn Session?
Quick and versatile, a Meet & Learn is the perfect solution to our new reality. It combines two important components: "Meet" and "Learn".
1-Meet
Currently, the priority for any team, especially those that work remotely, is to solidify the team and create a connection between its members.
Human connection is the heart of organisational success. It's the glue that holds us together, it's the foundation of any corporate culture and it enables us to collaborate effectively.
2-Learn
A micro-learning session is an important trend in online training. This mode of learning, which fragments knowledge into "small bites", now takes innovative forms adapted to our ability to concentrate when we work virtually.
Indeed, short learning sessions allow us to increasing our attention span, our understanding and long term retention. A microlearning session is short, or divided into more small units distanced over time, and has a positive impact on the motivation and commitment of the learner.
Meet & Learn sessions, approximately 60 minutes
Our Meet & Learn sessions are composed of a short training module (often in the form of a video), combined with a group discussion, and followed by a reflection, and end by making a personal commitment or an action plan.
These micro-learning sessions can be in the form of independent units or in the form of complementary series of interrelated units. (See Meet & Learn programs)
They can also blend together an Ice-Breaker, and other solutions such as gamification, serious play, or psychometric assessments.
Meet & Learn Sessions:
Becoming an Ideal Team Player
The Happiness Workshop
Your Personality Style
Facilitated Group Discussions adapted to your objective
Meet & Learn Programs :
We also offer "Meet & Learn" programs that combine a series of monthly or weekly sessions that are interrelated and focused on skills development and team development.
DISC Program

DISC and you
You in the workplace
Understanding your relationships
Building better relationships
Finding common ground
You and conflict
Understanding conflict in a team
Develop your Agile EQ
The Five Behaviors of a Cohesive Team Program

Introduction to the model and Team Assessment
Trust
Conflict
Commitment
Accountability
Results
The Team Building Agency offers workshops based on your needs and that are tailored for your team! Do not hesitate to share with us what you would like to accomplish as a team.
CONTACT US NOW TO OPTIMIZE YOUR TEAM'S POTENTIAL!