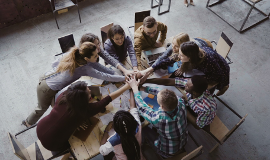 During this interactive workshop, through fun activities, amazing stories and videos demonstrating real-world situations in the work environment, team members will highlight the behaviors that are essential to good teamwork, and make a personal commitment to limit behaviours that hinder collaboration to adopt proactive behaviours.
"Alone we can do so little; together we can do so much." – Helen Keller
The Team Building Agency offers workshops based on your needs and that are tailored for your team! Do not hesitate to share with us what you would like to accomplish as a team.
CONTACT US NOW TO OPTIMIZE YOUR TEAM'S POTENTIAL!