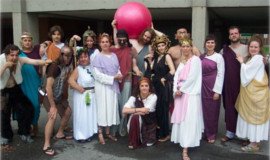 During the Gladiators Team Building activity we will provide your team with unique experiences that will appeal to their senses. Participants will travel through time and space, visiting the Middle Ages and New France, up to the beginning of the 20th century. This activity uses two specific methods: the interactive approach and historical rigour.
Our actors have mastered the interactive approach and a technique that has been tested in all situations. We continuously demonstrate our good judgment and ability to adapt to the audience based on customer experience.
We work hard to provide historical accuracy according to the theme. The costumes and language are carefully considered during the presentation. Period-appropriate terms and accents are used with two objectives: educate participants and enliven the language. The actors have perfectly mastered this language and an adapted vocabulary.
Your team will be transported to another era to crown its success!
The Gladiators Team Building Activity is Both a Competitive and Thematic Team Building
Leadership and the contribution of everyone is paramount in this kind of Team Building. Participants face not only competition with the other teams but also compete with themselves.



The advantages of the Gladiators Team Building Activity for your team 
Leadership skills
Improve motivation
Optimize teamwork
Get to know one another
Improve communication
Increase employee dedication to the companies' growth and success
Create a positive energy within the team and company
Identify the strengths of each member in the team
Creates a sense of belonging
Mobilize and tighten team spirit
Encourage collaboration in the team
Increase trust among the team members
Encourage team strategy
Team productivity and efficiency
Sharing of a common vision and eliminate silos
Stimulate creativity
Demonstrate the importance of the contribution of each team member
Team cohesion and synergy
Understand the impact of our attitude within the team
And lots of fun!
The Team Building Agency offers activities based on your needs and that are tailored for your team! Do not hesitate to share with us what you would like to accomplish as a team.
CONTACT US NOW TO OPTIMIZE YOUR TEAM'S POTENTIAL!