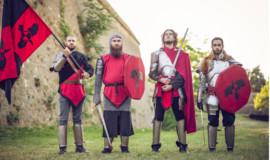 The power of kings is a truly life-size game.
Train your team, choose your king or queen and conquer your territory. Each team will have their knight council (facilitator). He will guide his team to collect as much gold as possible in order to win the throne.
Many challenges will have to be accomplished in order to obtain gold:
win a poetry contest
build a catapult
protect your territory
dress up your prince and princess
prepare a processional
During the staging phase, a short straw draw will determine which territory will be awarded to each team. Throughout the activity, fighting and territorial attacks will allow you to accumulate wealth.
An activity of a minimum duration of 3 hours, for the outdoors.
The Team Building Agency offers activities based on your needs and that are tailored for your team! Do not hesitate to share with us what you would like to accomplish as a team.
CONTACT US NOW TO OPTIMIZE YOUR TEAM'S POTENTIAL!