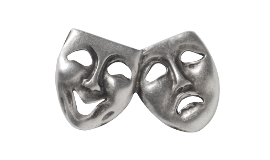 The Improv Team Building Activity is the perfect solution that uses creativity and humour to address the company's challenges or objectives. Using creativity and humour, we can simulate situations that occur within the company. Participants are invited to find solutions as a team while incorporating the company's values and objectives.
The Improv Team Building Activity is a Scenario Team Building
A scenario allows participants to have a more objective view on the company's as well as their own challenges and thus allows them to find creative solutions and demonstrate their strengths.
This activity is ideal for sales, conflict management, change management, creation, personnel management, etc. With the help of our facilitators and actors, we will be happy to create a customized concept that reflects your reality, provides solutions to specific challenges and motivates your team.
The advantages of Improvisation for your team 
Find creative solutions
Improve conflict management
Increase sales
Improve customer service
Optimize effective leadership
Optimize staff management skills
Demonstrate the impact of each team member
Creates a sense of belonging
Mobilize and tighten team spirit
Get to know each other
Improve communication within the team
Collaboration in the team
Increase trust among the team members
Encourage team strategy
Team productivity and efficiency
Sharing of a common vision and eliminate silos
Stimulate creativity
Demonstrate the importance of the contribution of each team member
And lots of fun!
The Team Building Agency offers activities based on your needs and that are tailored for your team! Do not hesitate to share with us what you would like to accomplish as a team.
CONTACT US NOW TO OPTIMIZE YOUR TEAM'S POTENTIAL!