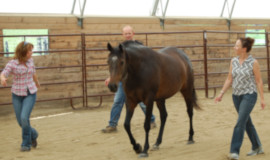 MOBILIZE YOUR GROUP THROUGH HORSES!
The success of a team, a company or any other group pursuing a common goal is based on how well they can work together.
Horses being herd animals and having a keen sense of "living together, they help bring teams and leaders to new levels. In effect, horses do not judge, they live in the present, they require patience but also comprehension and precision, they are authentic, do not lie, they perceive elements (emotional and mental) which are often well hidden in us. Horses are a perfect mirror of our reality. They convey reveling information.
We offer team building activities using horses as facilitators and coach. The activities are tailored to real life scenarios experienced in a corporate environment (as you need) or you can also come for a team building experience that is totally out of the ordinary! We offer half-day or full day program.
Activities take place solely on the ground – no equine experience necessary. We use the recognized Team Building method F.E.E.L (Facilitated Equine Experiential Learning).
Amongst the many benefits…
Horses give an immediate and authentic feedback: they do not lie, they don't have an agenda, and they don't care about your position in the company.
Opportunity of using a living, breathing, rather large, reacting creature which motivates us to be coherent in our mental and emotional state. They are a mirror of our confidence, assurance and interpersonal skills.
Opportunity to learn what we have to change in the moment, discover our hidden talents in relationship with us and others, enabling new ideas to blossom by leaving our comfort zone.
The perfect concept to address leadership, communication, collaboration and team cohesion.

The Team Building Agency offers activities based on your needs and that are tailored for your team! Do not hesitate to share with us what you would like to accomplish as a team.
CONTACT US NOW TO OPTIMIZE YOUR TEAM'S POTENTIAL!