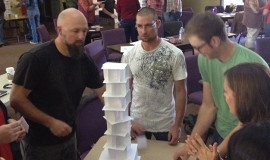 The challenge in The Tallest Tower Team Building Activity is to build the tallest tower.  This activity shows how team members behave differently and prioritize different things.
This Team Building activity will encourage team members to work together. It will promote motivation, teamwork, efficiency, collaboration, the importance of everyone's contribution toward a common goal and the value of sharing the same vision.

The Tallest Tower Team Building Activity is a Great Express (1h) Team Building 
The "Express" Team Building option allows your team to collaborate during the lunch hour or during a cocktail.  This option can also be used to add value to a congress, an off-site, or any other event that brings your team together.  



The advantages of the The Tallest Tower Team Building Activity for your team 
Find creative solutions
Build productive teams
Improve motivation
Optimize teamwork
Appreciate the differences between the members of a team
Get to know one another
Improve leadership skills
Improve communication
Increase employee dedication to the companies' growth and success
Create a positive energy within the team and company
Identify the strengths of each member in the team
Creates a sense of belonging
Mobilize and tighten team spirit
Encourage collaboration in the team
Increase trust amongst the team members
Encourage team strategy
Team productivity and efficiency
Sharing of a common vision and eliminate silos
Stimulate creativity
Demonstrate the importance of the contribution of each team member
Team cohesion and synergy
And lots of fun!
The Team Building Agency offers activities based on your needs and that are tailored for your team! Do not hesitate to share with us what you would like to accomplish as a team.
CONTACT US NOW TO OPTIMIZE YOUR TEAM'S POTENTIAL!