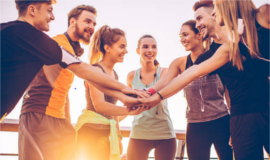 The Sport Stations Team Building Activity contains all of the ingredients for team cohesion. This activity will unite your team around sports-related values. Teams will be able to use all of their members' talents at different athletic stations (Frisbee challenge, labyrinth, lawn darts, tramploline toss, juggling rings, a variety of races, team challenges, etc.).
The teams will receive the material necessary to complete the final collaborative challenge.
The Sport Stations Team Building Activity is a Competitive Team Building
Leadership and the contribution of everyone is paramount in this kind of Team Building. Participants face not only competition with the other teams but also compete with themselves. 

Competitive ans athletic team building activities are very popular as they promote both the physical and intellectual (strategy) abilities of all employees.
There are two types of athletic team building:
Outdoor athletic team building stations: As the name suggests, these team activities are organized outside. We have an ideal formula for all seasons.
Indoor athletic team building stations: These activities are held inside. They promote conviviality and originality to cement the team spirit.
The advantages of the Sport Stations Team Building Activity for your team 
Leadership skills
Improve motivation
Optimize teamwork
Get to know one another
Improve communication
Increase employee dedication to the companies' growth and success
Create a positive energy within the team and company
Identify the strengths of each member in the team
Creates a sense of belonging
Mobilize and tighten team spirit
Encourage collaboration in the team
Increase trust amongst the team members
Encourage team strategy
Team productivity and efficiency
Sharing of a common vision and eliminate silos
Stimulate creativity
Demonstrate the importance of the contribution of each team member
Team cohesion and synergy
Understand the impact of our attitude within the team
And lots of fun!
The Team Building Agency offers activities based on your needs and that are tailored for your team! Do not hesitate to share with us what you would like to accomplish as a team.
CONTACT US NOW TO OPTIMIZE YOUR TEAM'S POTENTIAL!