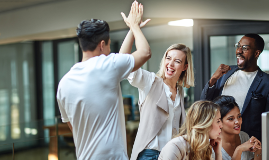 Start creating a culture of recognition and gratitude now.  People are less likely to feel or express gratitude at work than anywhere else. And yet it is at work that we spend the majority of our time. Most people feel better when they thank someone at work, yet surprisingly only a small number do this regularly.  How do we start incorporating this behavioural change into our group culture? And How do make it significant to those that receive it?
During the " Create a Culture of Recognition and Gratitude " workshop, participants will learn what employee recognition and gratitude is and why it is so important in the work environment.  They will also learn how they can take an active role in expressing it and how they can have a significant impact on peer to peer relationships and teamwork.
Gratitude has to be cultivated in the group culture. Put in simplest terms, group culture is "the way we do things". 
Through different activities, the team members will have the opportunity to way in and present different and creative possibilities to incorporate employee recognition and gratitude in their group culture.  This makes the process of adopting new behaviours, meaningful and achieves everyone's buy in, to obtain concrete and powerful results.
"In the largest sense, people are attracted to that which is celebrated and people do what they are celebrated for."- Dr. Don Clifton

The Team Building Agency offers workshops based on your needs and that are tailored for your team! Do not hesitate to share with us what you would like to accomplish as a team.
CONTACT US NOW TO OPTIMIZE YOUR TEAM'S POTENTIAL!