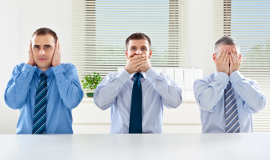 During the " Effective Communication " workshop participants will learn to use the powerful conversation catalyst tools, DISC.
Effective communication requires understanding others. Each person has its own preferred communication style, and you can have a more effective conversation with everyone that you work with by adjusting your communication to their preferred communication style. You can achieve effective communication with others by "speaking their preferred communication language."
Working with people to build strong business relationships, whether they are clients, coworkers, business associates or employees, demands that we learn to communicate ideas effectively - in a way that moves people to action.
In the " Effective Communication " workshop participants will learn how to recognize their own communication styles as well as the communication styles of others. How to adapt, how to avoid misunderstandings, miscommunication, and even conflict.
Conversation catalyst tools:
-Personality and communication style assessments
-Comparison Reports
The comparison reports is a great tool that enables people to have safe and comfortable conversations about sensitive topics. Discussions about personal habits, quirks, and even weaknesses using non-judgmental language help to dissolve the filters and silos that stifle honest, supportive conversation at work.
The comparison report is designed to take these conversations to a new level. The personal continua are a fun, engaging, and nonthreatening way to talk about the differences that are common sources of frustration and misunderstanding in the workplace.

The Team Building Agency offers workshops based on your needs and that are tailored for your team! Do not hesitate to share with us what you would like to accomplish as a team.
CONTACT US NOW TO OPTIMIZE YOUR TEAM'S POTENTIAL!