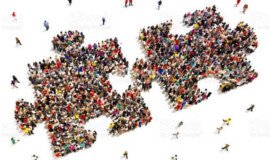 During the Complementary Teams Team Building Activity we explore the complementary talents and personalities of work team members that are essential to the team's success. It is important to recognize and use everyone's strengths so that all contribute, better collaborate and increase their sense of responsibility for the team's success. Through games and discussions, we will promote teamwork and demonstrate that, together, we can achieve more!
What are the advantages of Complementary Teams Team Building Activity for the participants? 
To build productive teams
To improve motivation
To optimize teamwork
To reduce stress
To appreciate the differences between the members of a team
To get to know one another
To optimize employee recognition
To improve leadership skills
To solidify your sales force
To increase the quality of your customer service
To facilitate change management
To manage conflict resolution
To improve communication
To increase employee dedication to the companies' growth and success
To create a positive energy within the team and company
To identify the strengths of each member in the team

The Team Building Agency offers activities based on your needs and that are tailored for your team! Do not hesitate to share with us what you would like to accomplish as a team.
CONTACT US NOW TO OPTIMIZE YOUR TEAM'S POTENTIAL!